KFA or Karate For All was formed by Sensei Paul Acton. They are currently members of the English Karate Federation.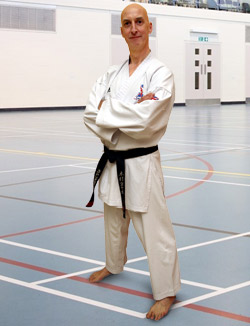 Since the 1980's Sensei Paul has studied and taught martial arts (Shukokai Karate). In training for many years, he has achieved many awards at both National and International level. Since opening his own clubs Sensei Paul has become one of the most successful instructors in the country. His main emphasis on teaching is on training for the true martial art where self discipline, etiquette and respect are of prime importance.
Sensei Paul had the privilege to train under Master Kimura who was the founder of Kimura Shukokai Karate for many years, and Shihan Daniels 8 th Dan.
KFA have produced many successful students, over the years, who have achieved honours at National and International level, and have many very experienced Black Belt Instructors. Their wealth of experience is passed on to the students with regular one on one training sessions, which helps the development of all our students and the growth of KFA.
Karate For All welcomes anyone from 5 years of age, and any style or grade to join us in one of our friendly sessions.
Contact us now to enrol.